The BANKER BK-10 utilizes our patented DMT Technology! No other product has it.

The BANKER Money Counter DMT provides far superior accuracy and trust from - -

Store Users, resulting in substantially improved levels of confident usage and productivity!

The Banker Money Counter is a Complete Tender Counting System - One Counter Does it All Accurately -

Saving YOU Money!   Accurate and Performance Proven!  ~ ~  The Complete Money Counting Solution !         

        •  Ease of use makes The Banker Money Counter - The Choice !

                Intuitive Self-Prompting Large LCD Display

        •  Automating counting optimizes your time !

                Audit Trail with Fast Docu-Pro Printer

        •  Superior DMT Technology Assures First Count Accuracy !

                Not affected by humidity or gravity changes

        •  Traditional Mechanical Counters requires Multiple Machines

                Noisy, expensive and not accurate!

        •  Quick & Accurate Cashier Till Counts

                Total accountability - easy to verify counts for cashier and office

        •  Quick & Accurate Safe and Deposit Counting

                 Easily verify money pack & clipped bills

                 Easily verify bagged or packaged coin

        •  Count non-money tenders

                 Store coupons

                 Company specific tenders

        •  Best in the business - Highest ROI !

                 Tops in accuracy in changing environment

                 Fastest - one count does it all

                 Retail hardened - long lasting & reliable

                 System Integration

The Banker BK-10 Advantages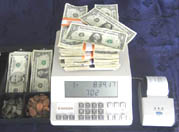 Email Us:

  Call Us Toll Free Today 

  1-888-748-5338

NEWS

  MAJOR MARKETS

  Moving forward & establishing the

  Banker BK-10 as the standard for

  accurate and efficient cash

  counting:  

  OVER 90,000 INSTALLED

Retail Systems Solutions - Copyright © 2005 Retail Systems Solutions. All rights reserved. - Updated: August 8,  2009 - Webmaster - Selma Designs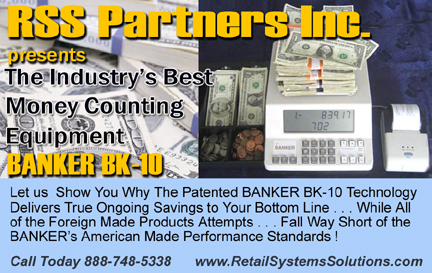 RETAIL INDUSTRY's TOP performing Money Counter

and its made in the USA!