The Banker Money Counter

BK-10 Specifications

  Function

Highly accurate money counter sensor using a patented Digital Mass Transducer Technology

Mass measurement not a Scale/load cell, never needs to be re-calibrated

Platform will hold a maximum 900 bills at one time

Auto-add feature with the ability to switch to manual add with keyboard depression for eposits

Good tone or Bad tone to signify acceptance or rejection
(Audible signal from integrated speaker)

Counts bills, coins, tokens & miscellaneous items

Counts loose bills, clips and packs without un-strapping or removing from platter

Loose coin counting using any of the following: Standard Coin Scoop or customer's own coin scoop

Auto verification of rolled coins

                  1cent, 5cents, 10cents, 25cents

                    Mix or Match rolls anytime in currency mode

Counts loose coins and rolled coins without breaking the roll

Till Cups - allows all loose coins in a till to be counted in approx. 6 sec.

Allows numeric entries to be added by using the built-in adding machine keyboard

Auto-Sensing to adjust for various environmental factors.  Perfected self-adjusting algorithm for Bill Count Accuracy

Field programmable for all currency, coins and additional items

Always current when monetary changes occur

Field programmable alpha descriptor for all items

                Displayed and printed on receipt

Real-time display to simultaneously show denomination, active $ amount and accumulated $     
totals

Prints detailed audit trail

Date, time, operator # and auditor # are printed on receipt

Denomination, quantity and total are printed on receipt

Grand totals are printed on receipt

Direct interfaces to many different printers and computers; POS, DVR and various systems

Future proof - Ready accept duplicate bills and new coins

    Tolerances

Does NOT require any special maintenance i.e., vacuuming, calibrating, etc.

Does NOT require a level surface to count accurately

Has a high tolerance to temperature changes, vibration

and environmental changes

NO re-calibration required for elevation or geographic location

    Dimensions

Overall:  8 1/2" Wide x 12" Depth x 4 1/2" High

LCD Display:  5.5" Wide x 1.75" High

Stainless steel flat platform: 6" Wide x 5.5" Depth

Power Requirements: Standard 115V AC, Optional 12V or 240V

  Email Us:

  Call Us Toll Free Today 

  1-888-748-5338

NEWS

  MAJOR MARKETS

  Moving forward & establishing the

  Banker BK-10 as the standard for

  accurate and efficient cash

  counting:  

  OVER 90,000 INSTALLED

The Banker Money Counter is a Complete Tender Counting System - One Counter Does it All Accurately -

Saving YOU Money!   Accurate and Performance Proven!  ~ ~  The Complete Money Counting Solution !         

Retail Systems Solutions - Copyright © 2005 Retail Systems Solutions. All rights reserved. - Updated: August 8, 2009 - Webmaster - Selma Designs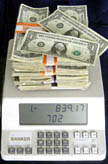 RETAIL INDUSTRY's TOP performing Money Counter

and its made in the USA!